SAN DIEGO, CALIFORNIA – March 28, 2022
Ken Kozlik Promoted to Senior Project Manager in San Diego
Fuscoe Engineering, Inc. is pleased to announce that Ken Kozlik, PE has been promoted to Senior Project Manager for Fuscoe's San Diego Region. Ken has 19+ years of civil engineering experience throughout Southern California. He leads a team of civil engineers providing services for public, commercial, and residential developments. His strong engineering skills and aptitude for teamwork and flexibility make him an invaluable part of the management team. Ken is a results-driven professional who is resourceful and budget-conscious, fostering trust and credibility with clients throughout San Diego and Imperial Counties. Ken has led notable projects such as Del Mar Stormwater Treatment Wetlands, 14th Street Promenade in Downtown San Diego, East Village Green in Downtown San Diego, Monarch Hills in Fontana, and Maruta Gardner Playground at Bonita Cove Park in San Diego. He is highly knowledgeable in drainage and Low Impact Development (LID) design, hydrology/hydraulics, water quality reports and hydromodification management studies. Ken has been instrumental in keeping Fuscoe Engineering abreast of evolving stormwater regulations.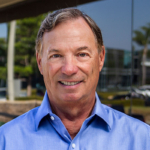 "Ken has grown to be the most experienced project manager in the Fuscoe San Diego office and manages some of Fuscoe San Diego's most complicated projects. Not only does Ken run a big team with a ton of talent, he also shares his knowledge with the entire company through lunch & learns."
Eric Armstrong, PE, San Diego Regional Director
He graduated Magma Cum Laude from Arizona State University, earned a B.S. in Civil Engineering, and joined Fuscoe in 2003. Ken quickly showed his keen eye for detail and ability to learn the ins and outs of the fast-changing water quality and stormwater management arena. He steadily advanced through the ranks to Senior Engineer and then to Project Manager in 2013. Ken has earned the respect of his clients, colleagues and peers as a trusted advisor and exemplary civil engineer and stormwater expert.
Ken resides in San Diego with his wife and two young sons. They enjoy the outdoors, camping, hiking and the beach. Ken's passion for preserving our environment in evident in the dynamic and innovative designs he creates.
For additional information please contact:
Toni McMahon
San Diego Regional Marketing Manager
tmcmahon@fuscoe.com
858.554.1500