IRVINE, CALIFORNIA – July 21, 2021
Kyle Sherman, PE Promoted to Project Manager in Irvine Office
Kyle has 10 years of experience in the civil engineering arena and has built his career by being extremely competent and innovative. Kyle has a diverse skill set and portfolio of work that includes both small and large private residential and commercial/industrial developments, local municipal projects, and international assignments. He has also provided services for ports/harbors and theme parks. By working diligently and creatively, Kyle has had exposure to a variety of disciplines and excels at site grading and utility layouts, as well as sewer, drainage, hydrology and roadway/highway design. He is experienced in educating and guiding clients and consultants through local land use processes and regulations. A very detail-oriented professional with strong analytical and judgment skills, Kyle develops cost-saving designs with out-of-the-box solutions.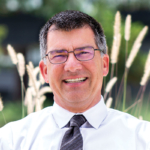 "Kyle is a results-driven manager who brings not only experience, but also leadership skills and the ability to work well within a team structure. His target focus is final product quality and client satisfaction, which he achieves through excellent project management, delivering top-grade work on schedule and on budget."
Mark Nero, PE | Senior Project Manager
Kyle's recent projects include the Bolsa Row Apartment Complex & Hotel in Westminster for IP Westminster, Holden Anaheim Hills Senior Living Center for Alliance Residential, OC Link Pacific Center in Anaheim for Hines, various Costco Wholesale sites throughout Southern California, Laguna Niguel Town Center for Sares-Regis Group, and Garden of Solomon Phase II at Hillside Memorial Park in Culver City for Brightview Design Group. Kyle and his husband, Greg, reside in the city of Costa Mesa.
For additional information please contact:
Laura Goforth
Marketing Manager
lgoforth@fuscoe.com
949.474.1960